Does anybody else have the camping bug? I do! I do! So, The Hubbs and I have been racking our brains to make a little list of things that would round out our stash of gear.
Here is what I bought today...
Black/Orange mummy-style sleeping bag (for Mr. J) $2.89 & a Ready Bed (retails for $113 *choke*) paid $5.99 (for Miss A)
Chalk $.99, Net mitts $.99, Ping pong paddles $1.99, 7 plates $.79/each
Not really a camping thing, but we LOVE this game and it appears to be brand new, $1.99 (we'll be giving this as a gift)
Another non-camping item, but I was SOOOO excited to find this shirt for The Hubbs, $1.89!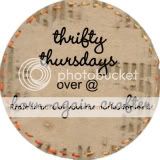 If so, do you tent, trailer, or something else?
What's your favorite convenience item while camping?